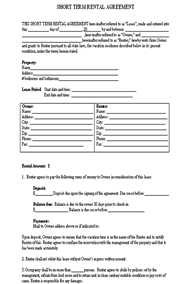 We also have a timeshare sales agreement / timeshare sales contract.
This short term vacation lease should be used by both the landlord and the renter for:

timeshare leases
timeshare rental agreements
short term vacation rental agreements
vacation leases

You can download it for $8.95 right here. Available immediately for your use. You can save it to your computer and use it over and over.

This vacation rental contract addresses the following:

questions and concerns of property liability issues
what if the renter damages the unit
deposits and payment
cancellations
much more
The Short Term Vacation Rental Agreement / Timeshare Lease Agreement form is easy to use. You just fill in the blanks on the form. You can use it over and over if need be.